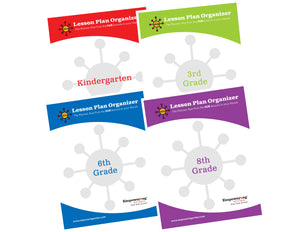 Teachers who love our HUB, with the variety of teacher support and direct to student assets, will love the Lesson Plan Organizer, our on-the-go printed planner. This grade level specific resource simplifies the planning process and makes the most of your teaching time. Each printed lesson plan contains:
A clearly stated

 

objective

 

for focused instruction
Detailed list for any

 

materials

 

that you need to deliver the lesson
Easy to follow step by step

 

procedure

 

based on the EW methodology 
Application

 

suggestions for ways to bring the learning to all content areas
Clear call outs for HUB assets that support each lesson
Sections included:
Literacy Launch
Informational Writing
Narrative Writing
Argumentative (5 lesson subset for grades 3-5, complete set for grades 6-8)
These printed resources are helpful for any combination of HUB guides you may have. Only have the HUB Informational guide? Just use the Literacy Launch &  Informational sections of the Lesson Plan Organizer. Have the Genre Writing guide? All sections apply! 
Want to preview an Organizer?
Available in US only.