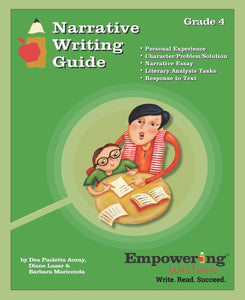 Narrative Writing Guide for Grade 4 (printed) - Canada
SKU 10-2004-02
 Available in the Canada

*Free shipping. A handling fee will be added at checkout.
This grade-level specific guide includes all of the foundational narrative writing skills and provides everything you need to be successful at teaching narrative, personal experience and response to text writing.  Teacher background, detailed lesson plans, reproducible/projectable student pages, sample texts and exemplars are included.
Recognize and distinguish between genres (narrative, informational, opinion/argument writing) and understand author's purpose.
Uncover the organizational structure of a narrative story
Learn to read with an author's eye, identify literary elements (character, point of view, setting, plot, motivation, conflict, theme)
Annotate and analyze narrative stories to build foundational understanding
Learn to recognize and generate narrative writing through skill specific instruction  (entertaining beginnings, vivid, relevant elaborative detail, suspense, fully elaborated main events, conclusions, and extended story endings.)
Develop literary language
Extend or modify a narrative story in some way in to demonstrate understanding of the literary elements through a narrative extension task (NET).


Respond, in writing, to narrative stories in order to demonstrate deep comprehension through a variety of literary analysis tasks (LAT).
NOTE:  English and Spanish student pages are accessible for print and projection through a digital link provided in the guide.  
Click here to preview this guide