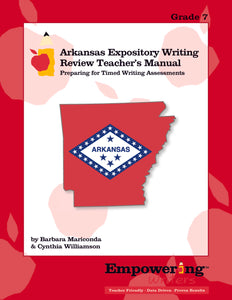 Grade 7 Arkansas Expository Assessment Review
SKU DB Gr 7 AR Assess
(This product includes a license for digital teachers' guide and student pages. You will receive access information within 24 business hours M-F. License expires a year from date of purchase..  For more information on using the Hub License, please click here)

This Timed Writing Assessment resource for Grade 7 provides teachers with a comprehensive review of all of the skills necessary for success in the tested genre of Expository writing. The critical review material is delivered direct to students via video by an EW expert, then handed off to the classroom teacher for powerful guided practice experiences. Day-by-day, step-by-step lessons with clear objectives and procedures revisit all the key skills covered in the grade level and genre based EW Guides. The review takes approximately 7 days, depending on your schedule. 
In addition to the skill review, each digital Teacher's Manual includes all of the timing, pacing, and decision-making strategies necessary to empower confident, strategic test-takers. Also provided are practice tests, exemplars, rubrics, and anchor sets. Each resource includes a digital Teacher's Manual, printable student pages, and access to Direct-to-Student Video instruction. 
Included in these resources:
Expository Pillar and Summarizing Framework
Broad yet Distinct Main Ideas
Introductions and Conclusions
Identifying Givens and Variables in Expository Prompts
Timing and Pacing Strategies
Independent Practice Test

(Corresponding Guide – Expository Writing Guide for Grade 7)
COPYRIGHT LAW GUIDELINES – PLEASE READ. Our copyright agreement for a single user license allows one person to download, print, and copy FOR USE WITHIN HIS OR HER INDIVIDUAL CLASSROOM ONLY. Copying or sharing materials for use in other classrooms or for training purposes is a violation of copyright law. Use in multiple classrooms will require the purchase of additional licenses – one per classroom. Copying, recreating, or modifying this product for the intended purposes of redistributing or selling is strictly forbidden.