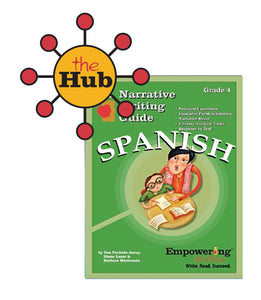 Resource Overview
For teachers in Spanish classrooms looking for teacher-friendly writing instruction, these resources are for you!
Empowering Writers Informational & Opinion Writing guides provide you with everything you need to be successful at teaching writing.  This includes:
The Literacy Launch - designed to bring the importance of the reading writing connection to the forefront before launching into the necessary writing skills and to maximize instructional time through a proactive interaction with text in all content areas. 

A Proven Approach - Empowering Writers methodology and strategies deliver the "how-to" teach all of the foundational informational and opinion writing.  

Response to Text Tasks Instruction builds upon the Literacy Launch and foundational skills taught to meet the requirements of today's state standards and assessments.  
Digital Student Content in Spanish delivers valuable background information and vocabulary in an engaging multi-sensory fashion.
Product Description
This product is a license for one individual to access the Spanish edition the Informational & Opinion Writing Guide for Grade 4 on Empowering Writers HUB platform.
The Spanish edition includes teacher background and lesson plan pages in English and all of the student facing content in Spanish.  The student content includes all student activity pages, Virtual Field Trips, Skill Power! PowerPoints, and Narrated Text Audio.
Connect your digital guide to your digital classroom to assign student content, lessons and activities.  Make sure to view the digital requirements before purchasing a license.
This product is a license for the digital guides only. The printed guide is sold separately.
License expires a year from date of purchase.
SKU: DB Span Narr 4
Outside of US and Canada?  Contact us
More About the Resource

This new grade-level specific guide includes all of the foundational narrative writing skills and provides everything you need to be successful at teaching narrative, personal experience and response to text writing.  Teacher background, detailed lesson plans, reproducible/projectable student pages, sample texts and exemplars are included.
Recognize and distinguish between genres (narrative, informational, opinion/argument writing) and understand author's purpose.
Uncover the organizational structure of a narrative story
Learn to read with an author's eye, identify literary elements (character, point of view, setting, plot, motivation, conflict, theme)
Annotate and analyze narrative stories to build foundational understanding
Learn to recognize and generate narrative writing through skill specific instruction (entertaining beginnings, vivid, relevant elaborative detail, suspense, fully elaborated main events, conclusions, and extended story endings.)
Develop literary language
Extend or modify a narrative story in some way in to demonstrate understanding of the literary elements through a narrative extension task (NET).
Respond, in writing, to narrative stories in order to demonstrate deep comprehension through a variety of literary analysis tasks (LAT).
Embedded Professional Development 
Throughout this digital resource, our Master Trainers are with you along the way. Watch on-demand video on all aspects of Empowering Writers instruction and grow as a teacher of writing.
Teacher Background

 

- get a deeper understanding of the genre with brief, topic-specific video segments that reinforce every lesson.
Modeled Lessons

 

- watch actual classroom footage of foundational skills being taught by experienced writing instructors—pragmatic insight that can be applied right away.
Coaching Segments

 

- elevate teaching practices with valuable overviews, pacing advice and troubleshooting tips from certified Empowering Writers Teachers.
Digital Student Content
We designed our engaging videos to introduce students to the topic, and to provide valuable background information and vocabulary. In an engaging multi-sensory fashion, your students will have a better knowledge base with which to approach the related reading and writing tasks. Embedded digital student content includes:
COPYRIGHT LAW GUIDELINES – PLEASE READ. Our copyright agreement for a single user license allows one person to download, print, and copy FOR USE WITHIN HIS OR HER INDIVIDUAL CLASSROOM ONLY. Copying or sharing materials for use in other classrooms or for training purposes is a violation of copyright law. Use in multiple classrooms will require the purchase of additional licenses – one per classroom. Copying, recreating, or modifying this product for the intended purposes of redistributing or selling is strictly forbidden.