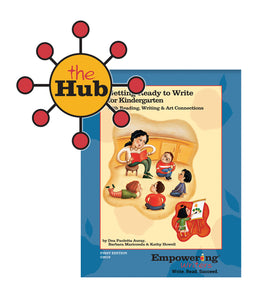 Resource Overview
For teachers looking for teacher-friendly writing instruction, these resources are for you!
This guide is jam-packed with lessons to integrate narrative, informational, and opinion writing throughout your curriculum.  We have included additional lesson plans for creating a full narrative piece – full narrative writing diamond, strategies for entertaining beginnings, extended endings, main event, and putting it all together.  Students will learn to recognize genre and author's purpose, articulate ideas that will be expressed in writing (oral language precedes written), and engage in grade-specific lessons.
Product Description
This product is a license for one individual to access Getting Ready to Write for Kindergarten on Empowering Writers HUB platform.
Connect your digital guide to your digital classroom to assign student content, lessons and activities.  Make sure to view the digital requirements before purchasing a license.
This product is a license for the digital guides only. The printed guide is sold separately.
License expires a year from date of purchase.
SKU: SKU DB K
Outside of US and Canada?  Contact us
More About the Resource
As you use the lessons in the guide, you will be building the bridge between the basic concept of the sound/symbol connection to the use of words, phrases and sentences to entertain, inform or share a personal opinion with an audience of others. The guide is laid out in genre-specific units so teachers can select appropriate lessons for a range of learners and apply those lessons to current content area material. The lessons all state clear objectives, include detailed procedures and provide a variety of templates for student writing.
Foundational concepts are built through a wide variety of lessons including: 
Genre and author's purpose
Responding to text – fiction and non-fiction
Powerful vocabulary building


Research opportunities
The final section of the resource includes a series of reading/writing and art connections to make the reading-writing connection come alive in the classroom.  
The Digital Guide on the HUB 
The HUB takes you beyond the book and combines professional development, digital teaching tools, how-to demonstration videos and direct to student content all in one convenient place!
Embedded professional development including:

Teacher Background

 

- get a deeper understanding of the genre with brief, topic-specific video segments that reinforce every lesson.
Modeled Lessons

 

- watch actual classroom footage of foundational skills being taught by experienced writing instructors—pragmatic insight that can be applied right away.
Coaching Segments

 

- elevate teaching practices with valuable overviews, pacing advice and troubleshooting tips from certified Empowering Writers Teachers.
COPYRIGHT LAW GUIDELINES – PLEASE READ. Our copyright agreement for a single user license allows one person to download, print, and copy FOR USE WITHIN HIS OR HER INDIVIDUAL CLASSROOM ONLY. Copying or sharing materials for use in other classrooms or for training purposes is a violation of copyright law. Use in multiple classrooms will require the purchase of additional licenses – one per classroom. Copying, recreating, or modifying this product for the intended purposes of redistributing or selling is strictly forbidden.