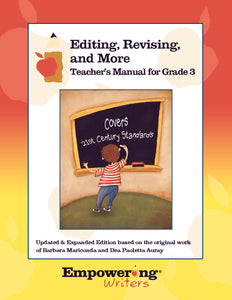 Grade 3 Editing, Revising, & More Teacher's Manual Only (printed)
SKU 10-350M-3A

Available in the U.S. only *Free shipping
Need an additional teacher's manual for your Language Arts or Curriculum Coordinator? The Teacher's Manual from our Editing, Revising, and More resource sets is now available as a separate resource. Lessons are designed to specifically cover all 21st Century readiness and supporting standards.  Take the mystery out of grammar, mechanics, editing and revising.  So much more than a rote skill and drill workbook, Editing, Revising, and More provides the comprehensive instruction that helps students understand the rules that make language work.


This comprehensive teacher's manual includes a link to Student Assessment pages which are designed to test understanding and be used as a tool to adjust instruction around review, reinforcement, and reteaching.
This resource includes: 
Comprehensive background information for teachers
Lesson plans for:
- Subject/Verb Agreement
- Parts of Speech
- Word Usage
- Sentence Structure
- Transitional Words and Phrases
- Revising Run-on Sentences
- Understanding Domain Specific Language
- Developing General Academic Vocabulary
- Literal vs. Figurative Language
- Words with Multiple Meanings
- Utilizing Contextual Clues
- Formal vs. Informal Voice
- Using Glossaries, Dictionaries, and Thesauruses
Games and activities to make learning fun
Application opportunities within the lessons
Accompanying link to mini-assessments for use throughout the year
When using these resources in a classroom, we recommend purchasing the complete resource set which includes 25 student workbooks.
Click here to preview the Grade 3 Teacher's Guide