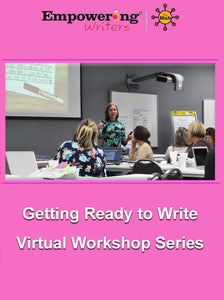 Getting Ready to Write – K-1 Foundational Writing Skills Workshop

Watch and learn how to teach K-1 students the foundational writing skills they need now in this on-demand teacher's course.  You can view, pause, and replay this content or break your learning into bite-size sections that work with your school schedule. This flexible format makes learning easy!
Get Your K-1 Students Ready to Write with This Age-Appropriate Instruction
WHO:  Teachers, Grades K-1
WHEN:  On-Demand, Professional Development Training via this Getting Ready to Write Workshop is available online and on-demand, to watch now, on your own time.
WHAT YOU WILL LEARN:  Age-appropriate, instructional tools to effectively teach your youngest (K-1) students the foundational skills they need to become strong writers.  You'll be introduced to the developmental stages of writing, learn to teach your students how to identify genre and author's purpose, and develop the foundational skills of narrative, informational and opinion writing.  Through this training, you will gain confidence in your writing instruction, and develop the writing/reading connection for your students across all content areas. 
HOW THE TRAINING BREAKS OUT:
Part 1– Genre and Organization – Creating the Writing/Reading Connection 
Understanding EW's Methodology and How it Creates Writing Success
Recognizing Genre and Author's Purpose (e.g., Informational vs. Narrative genre; inform vs. entertain purpose)
Summarizing Text
Inspiring Rich Vocabulary Development

Part 2– Foundational Skills for Narrative Writing
Identifying Story-Critical Elements Worthy of Description
Engaging the Five Senses to Create Vivid Elaboration
Generating Elaborative Detail
Exploring "What Do Feelings Look Like?"
Crafting Suspenseful Segments

Part 3– Foundational Skills of Informational and Opinion Writing
Sorting Details for Informational Writing
Creating Diagrams to Inform
Writing Informational Sentences
Exploring Opinion Writing
Summarizing Opinion Pieces
Recap of Today's Learning – Foundational Writing Skills for K-1 Students

and Teachers


BONUS Training (Recorded) – The Developmental Stages of Writing.  This pre-recorded instructional session features EW's Master Educators providing you with a deeper dive into the stages of writing.  It also includes a PowerPoint presentation that highlights key aspects of this learning. 

______________________________________________________________  

WHAT YOU GET: 

6 hours of K-1 Getting Ready to Write instruction (taught by Master Educators)
Certificate of Attendance for 6-hours of Professional Development
Online Access to the Recording of this Live Zoom Workshop: 14-days of online access available 
Ongoing support from the Empowering Writers' team to ensure your success through virtual teacher talks, online chat Q&A, webinar trainings and much more!
Price: $175 USD if you already own your required resource or $274 with a required HUB guide, for this pre-recorded training and unlimited support.
Register Today for immediate online access to this valuable, on-demand writing instruction.

 

Workshop Requirements: 

Each participant is required to have the corresponding Empowering Writers' teaching manual (digital guide or printed manual) for this K-1 writing workshop.  If you don't have it, don't worry!  You may add the EW teaching manual (in either digital or printed form) to your registration.  Registration with a Digital Guide is $274 each and readily available through our online HUB teacher portal.  The Printed Manual is available through the bookstore and will be shipped promptly to your location of choice. Printed Activity Cards are also available for $40 and can be used to further enhance your K-1 writing instruction and engage your young students.

Remember that your Empowering Writers' digital guide includes a school year HUB license that delivers digital teaching resources for a year of K-1 writing instruction. The HUB allows for easy, online access to your K-1 guide, along with a wealth of done-for-you resources and teach-it tools to

access online for an entire year from date of purchase.

   Teachers love the EW HUB for their writing instruction!

 
Copyright law warning: These recordings are to be used by the purchaser only and are not to be shared or duplicated.
*Need to get a quote to start your PO? Add this workshop to your cart; at checkout select "Quote" as a payment method.
*Want a printed guide or additional K-1 resources? Click here to shop more!