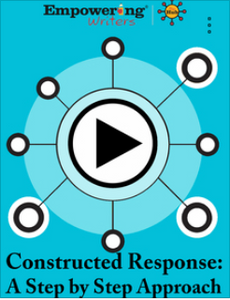 On-Demand Constructed Response: A Step-by-Step Approach (Gr 2-8)
(Old title: On-Demand Teaching Through Text: A Step-by-Step Guide to Constructed Response)
Watch and learn how to teach your students to apply analysis skills to constructed response with this on-demand teacher's course. You can view, pause, and replay this content or break your learning into bite-size sections that work with your school schedule. This flexible format makes learning easy!  
WHO: Teachers, Grades 2-8
WHAT YOU WILL LEARN: 

Instructional tools to analyze and annotate text

Effectively deconstruct the prompt

Locate and identify evidence to support your response

Paraphrase and cite evidence in source texts (narrative and informational)

Apply analysis skills to constructed response

How to model the step by step process to a well written response
WORKSHOP DETAILS: 
Required prerequisite: Background in EW Informational instruction is recommended. Each participant is required to have the corresponding Informational writing resources (digital or printed).  
Remember that Empowering Writers' Informational digital guide includes a year-long HUB license that delivers digital teaching resources for an entire year of Informational writing instruction. The HUB allows for easy, online access to your Informational guide, along with a wealth of other done-for-you resources and teach-it tools to access online and use for an entire year from date of purchase.  
Objective: Learn how to apply informational skills to tasks that require students to identify and cite evidence from text.
6 hour course will:
Review foundational skills for application
Use a sample text to model the process for constructed response with a single source text
Introduce key comprehension questions for Informational and Opinion Genres
Utilize the framing questions for literary analysis
Model the application of the questions with specific articles or stories
Apply questioning techniques to assess students' ability to understand foundational skills, identify and paraphrase/cite evidence, and formulate a fluid response
Develop an extended response utilizing multiple source texts  
 ________________________________________________________________________
WHAT YOU GET:
6 hours of Writing instruction (taught by Master Educators) 
Certificate of Attendance for 6-hours of Professional Development
Ongoing support from the Empowering Writers' team to ensure your success through virtual teacher talks, online chat Q&A, webinar trainings and much more!

Price:  $175 USD

 for a full day of instruction and unlimited support. Add $99 to include a year's subscription to the digital Informational HUB guide.

Digital Guidebook to accompany your training day.
Copyright law warning: These recordings are to be used by the purchaser only and are not to be shared or duplicated.
*Need to get a quote to start your PO? Add this workshop to your cart; at checkout select "Quote" as a payment method.
*Want a printed guide or additional Informational/Expository resources? Click here to shop more!