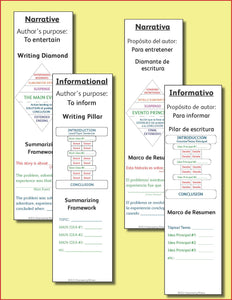 Student Bookmarks (Sold in packs of 10 classroom sets.  Each classroom set includes 25 bookmarks/Total Count 250) - U.S.
SKU 40-2520-01

Available in the U.S. only *Free shipping 
A handy tool for reminding students of the Empowering Writers graphic organizers! On one side, you'll have the narrative writing diamond along with the summarizing framework and on the other is the informational pillar with its summarizing framework. Keep these bookmarks accessible to students and refer to the graphic organizers every time you read or prepare to write.