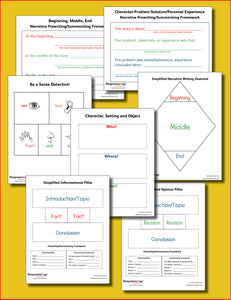 Available in English and Spanish
SKU DB K1 Poster English
SKU DB K1 Poster Spanish
This 7-poster digital set serves as a student-friendly reminder of narrative, informational and opinion writing skills taught.  Use these in the traditional classroom, and with blended or virtual instruction as well.  The posters can be enlarged and displayed in your classroom, or have students download and print them as handy reference sheets.  The set includes:
Simplified Writing Diamond for Primary Students 


Narrative Prewriting/Summarizing Frameworks:
- Beginning, Middle, End
- Character-Problem-Solution/Personal Experience


Five Senses Chart 


Character, Setting and Object Chart


Simplified Informational Pillar and Prewriting/Summarizing Framework


Simplified Opinion Pillar and Prewriting/Summarizing Framework

*A download link will be emailed to you within 24 hours of receiving payment by either Credit Card or Purchase Order. Please note the recipient(s) email address in the order text box provided at checkout.